UTM opened the doors to its very own undergraduate robotics teaching lab at Maanjiwe Nendamowinan on Wednesday September 7th. Faculty, staff, students and special guests Professor Alexandra Gillespie (Vice-President and Principal of UTM), Professor Amrit Daniere (Vice-Principal, Academic & Dean of UTM), and Professor Ilia Binder (Chair of the Mathematical and Computational Sciences Department) joined to commemorate the opening with a ribbon cutting ceremony.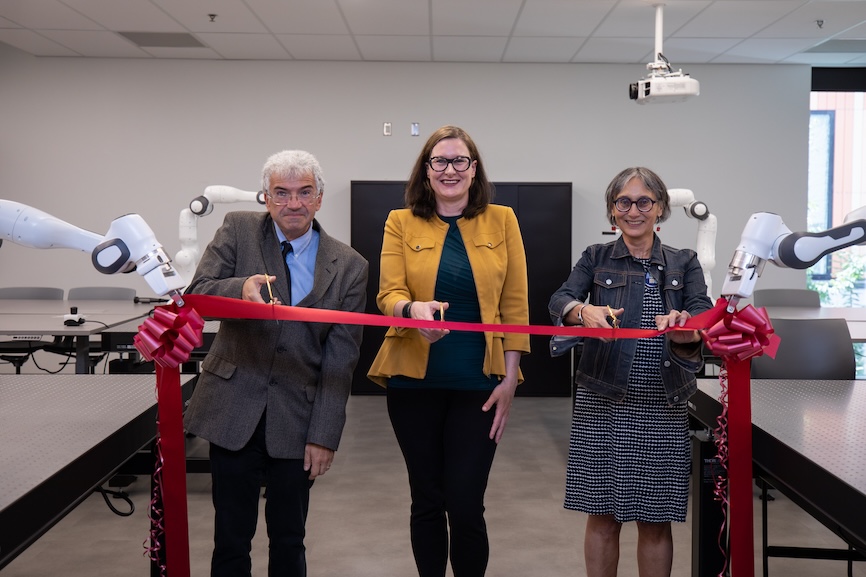 Left to right: Chair of Department of Mathematical and Computational Sciences, Ilia Binder; Vice-President, and Principal of UTM, Alexandra Gillespie; and Vice-Principal, Academic & Dean of UTM, Amrita Daniere, taking position to cut the ribbon. Photo by Nicholas Iwanyshyn.
The new lab features seven collaborative robot arms. These robots can be remotely controlled in real-time and consist of computer interfaces and cameras to sense their surroundings. The lab solidifies UTM as a robotics hub, offering students an in-depth understanding of robots. Graduate students and lab techs from CRL prepared demonstrations for guests at the opening and conducted several demos prior to the inauguration as well.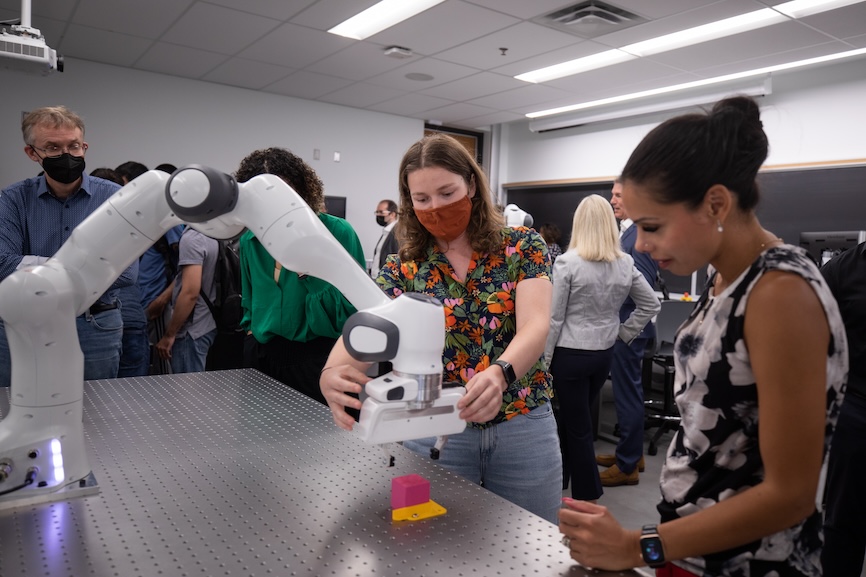 Graduate student Chloe Pogue showing guests one of the robotic arms on the day of the event. Photo by Nicholas Iwanyshyn.
Professor Jessica Burgner-Kahrs championed the teaching lab for students learning robotics in 2019 when she joined the Mathematical and Computational Sciences department, and through the immense planning and teamwork among the Robotics Cluster, UTM Facilities Management & Planning, and Information & Instructional Technology Services, students enrolled in CSC376 this Fall semester will be the first to utilize the lab and learn about the fundamentals of robotics through hands-on experience!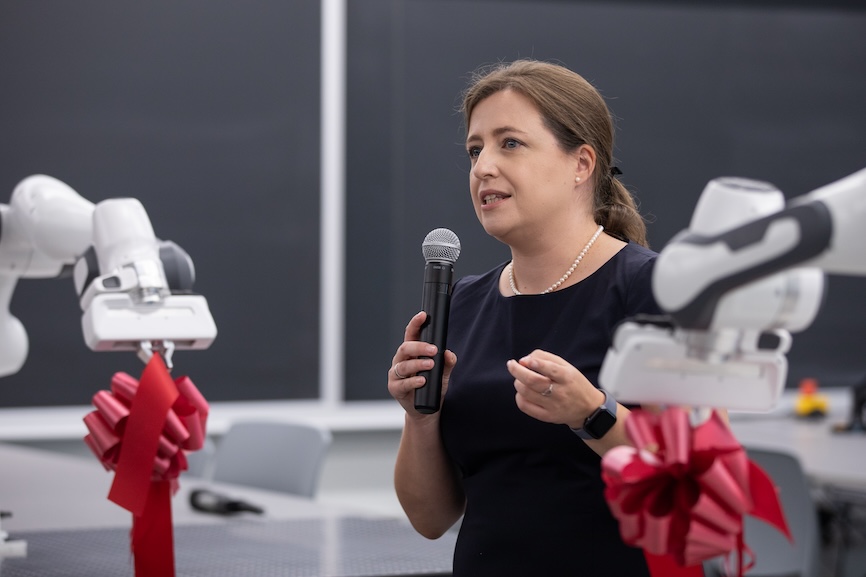 Professor Jessica Burgner-Kahrs sharing a few words on the impact of the new lab. Photo by Nick Iwanyshyn